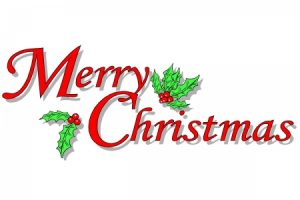 Hi Everyone,
Warmest Christmas greetings to each of you. It's easy to say that as we sit in the Rio Grande Valley in South Texas enjoying a sunny day with a temperature of 81 degrees! It seems like such a short time ago we were in Iowa on December 31, 2017 enduring a temperature of -27 degrees with a wind chill of -45. It was so cold that the New Year's Eve sing in Keosauqua was cancelled. Hard to believe that was already 352 days ago. Each year as we get to this season, we wonder how the year has passed us by so quickly. Maybe you feel the same way. We all need to remember to make the most of each day the Lord gives us here on this earth.
The first thing on this newsletter's agenda concerns our previous newsletter. We composed and sent the letter on October 10. Somehow, after it was sent to about 1/3 of our subscribers, the sending was paused and the other 2/3 never received it . I just discovered it as we were preparing this newsletter. So, after we send this Christmas newsletter, I am going to restart the sending process on the October 10 letter. I apologize for those of you who will receive a couple of newsletters on the same day, but we want to give everyone a chance to read what they missed out on.
Soon after the new year, we will compile our recap of 2018. We have been blessed with many new opportunities this year, as well as revisiting many yearly commitments we've been to many times. Once again, we thank God for all His guidance and protection over this past year, and we look forward to what He has in store for us in 2019.
We also want to pause in all the busyness of the Christmas season and thank each one of you for all your prayers, support, encouragement, and attendance at our concerts in 2018. We hope each of you will have a very Merry Christmas focusing on our Savior, Jesus Christ, and a blessed, God-centered 2019.
We hope this letter finds you in good health and enjoying the many blessings that God has given you. We know that even though that's our hope, there are still those of you who are suffering. Maybe you or a loved one are in poor health, or you're dealing with a death in the family. Maybe you are enduring family or financial difficulties. Maybe with all the dilemmas going on in the world and in your life, you are wondering what hope there is this Christmas season. The answer lies in the reason the little baby Jesus was born so many years ago in Bethlehem.
Then the angel said to them, "Do not be afraid, for behold, I bring you good tidings of great joy, which will be to all people. For there is born to you this day in the city of David a Savior, who is Christ the Lord. And this will be the sign to you: You will find a Babe wrapped in swaddling cloths, lying in a manger". And suddenly there was with the angel a multitude of the heavenly host praising God and saying, "Glory to God in the highest, and peace on earth, goodwill toward men!" Luke 2:10-14 NKJV
We have a Savior Who was born to bring peace to this earth and goodwill to all men, but the world has rejected Him, bringing turmoil and conflict all around us. When we reject Him personally, our lives suffer turmoil as well. Still, His birth provided an answer, because He lived a sinless life and suffered a cruel death to pay for our sins. If we will accept Him as Savior, we will know a peace that this world cannot provide. He will also be there to give us a personal peace during the difficulties we face during our lives. It's our prayer that you will find the peace God desires you to have each day, along with eternal life through Jesus Christ through His sacrifice and resurrection. In the end, the only reason for Christmas is…..
Because of Christ,
Dennis and Cheryl / Ambassadors of Grace