Greetings Everyone,
We hope this newsletter finds each of you well and enjoying the third month of this year.  Hard to believe January and February are already gone!  It's way past time for us to compile our end of the year newsletter for 2016.  It was our busiest year ever, and between our time spent in Texas and our summer road trip, we spent about 8 months  in our camper spreading God's Word.  Let's start out with the breakdown of singing dates by state and type.
States
Iowa – 58
Texas – 17
Nebraska – 15
Missouri – 9
Alaska – 6
Illinois – 5
South Dakota – 5
Wisconsin – 4
Minnesota – 3
Louisiana – 2
Arkansas – 1
Tennessee – 1
Michigan – 1
Type
Retirement communities – 41
Churches – 28
Gospel sings – 17
Fairs/festivals – 15
RV parks – 11
Benefits – 8
Gospel missions – 2
Senior lunches – 2
Prison – 1
Cowboy church – 1
Camping jamboree – 1
Now it's time for our low points and highlights of 2016.
Low Points
Our digital recorder's hard drive crashing with all of our tracks and music recorded for our new CD, delaying it's release
We rejoice in the fact that this is the only low point we could come up with for 2016.  (Our van was broken into sometime over the week we were in IA to sing for New Year's Eve, but since we didn't discover it until we got back after the first of the year,  we will include that in 2017's list.)  The Lord blessed us with a great year of travel with no break downs and few difficulties, and we thank Him for watching over us.
Highlights
Finding a new hard drive for our recorder and getting the tracks and music recovered without having to re-record them
Release of our first new CD in four years
Singing in the states of Arkansas, Louisiana and Michigan for the first time
Having a full day to explore Denali Park while we were in Alaska
Establishing a new, annual benefit concert for the LC Clinic in Creston, IA
Dennis turning 60 years old!
We now have sung in 18 different states.  To show how far the Lord has allowed our ministry to reach, I'm including a map with the states we've sung in highlighted in maroon.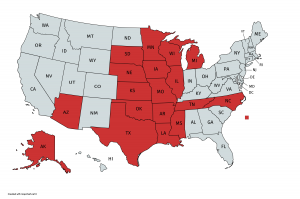 Yes, I have turning 60 under the correct heading!  It was definitely a highlight, not a low point, last year!  I'm thankful for each year the Lord has given me, and I feel blessed that He's given Cheryl and me a ministry that allows us to spend so much time together as we serve Him.  I celebrated my birthday in Texas for the first time last year.  Cheryl invited a "few" of our Bibleville neighbors to Taco Ole for a surprise birthday dinner, and I think almost 60 of them showed up.  (Thank goodness she made clear it would be "Dutch treat" if they came!)  It was humbling to have that many people want to share that special day with us.  My life is better now than it has ever been, and I look forward to it getting better each day.
We are excited to see what the Lord has ahead for us this year.  We are looking at adding new ministry opportunities in Alaska this summer, including possibly singing at a prison, an Air Force base and a Russian/Ukrainian church.  Who knows what other things the Lord has in store for the rest of the year?  That's one of the things that makes serving the Lord so exciting.  You never know where He will lead and what He will have for you to do.  We hope each of you are on that exciting ride that is the life of Christian service.
We are thankful for each of you who receive this newsletter, who pray for our ministry, who support us – financially and/or through your love and encouragement.  The road is not always easy, and we're thankful the Lord provides through each of you the encouragement that keeps us going during the difficult and discouraging times.
As always, we look forward to hearing from you about what's going on in your lives, and we welcome your prayer requests as well.  Our God is an amazing God, and He gives us the desire to continue this ministry…..
Because of Christ,
Dennis and Cheryl/Ambassadors of Grace